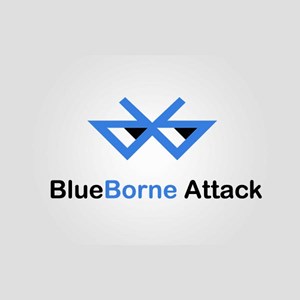 Sofern Sie ein Gerät mit aktiviertem Bluetooth nutzen, sollten Sie dieses auf verfügbare Updates prüfen. Sicherheitsforscher haben mehrere gravierende Zero-Day Sicherheitslücken im Bluetooth Protokoll gefunden, welche eine vollständige Übernahme der betroffenen Geräte ohne Zutun des Anwenders ermöglichen.
Die IoT Sicherheitsfirma Armis Labs demonstrierte bereits einen Angriff mit dem Namen BlueBorne, bei welchem Geräte mit aktiviertem Bluetooth ohne Zutun eines Nutzers vollständig übernommen wurden. Der Angreifer muss sich hierzu lediglich in Kommunikationsreichweite befinden. Besorgniserregend ist das sich Geräte auch mit einem sich selbt weiterverbreitenden Wurm infiziert werden könnten. So lassen sich hierüber auch Botnetze aufbauen, Geräte mit Erpressungssoftware (Ransomware) infizieren oder geschützte (air-gapped) Netze ohne Internetverbindung infiltrieren.
Die Schwachstellen wurden bereits vor einigen Monaten Herstellern wie Google, Apple, Microsoft, Samsung und der Linux Foundation mitgeteilt.
Die Schwachstellen umfassen:
Information Leak Vulnerability in Android (CVE-2017-0785)
Remote Code Execution Vulnerability (CVE-2017-0781) in Android's Bluetooth Network Encapsulation Protocol (BNEP) service
Remote Code Execution Vulnerability (CVE-2017-0782) in Android BNEP's Personal Area Networking (PAN) profile
The Bluetooth Pineapple in Android—Logical flaw (CVE-2017-0783)
Linux kernel Remote Code Execution vulnerability (CVE-2017-1000251)
Linux Bluetooth stack (BlueZ) information leak vulnerability (CVE-2017-1000250)
The Bluetooth Pineapple in Windows—Logical flaw (CVE-2017-8628)
Apple Low Energy Audio Protocol Remote Code Execution vulnerability (CVE Pending)
Nutzer von Apple iOS, welche die aktuellste Version (10.x) nutzen, sind hiervon nicht betroffen. Auch Google und Microsoft haben Sicherheitsupdates zur Verfügung gestellt. Nutzer von Android müssen hier in der Regel auf ein Update durch den Gerätehersteller oder Mobilfunkanbieter warten.
Das Team von Armis hat im Google Play Store eine App mit dem Namen "BlueBorne Vulnerability Scanner" zur Verfügung gestellt. Hierdurch können Nutzer von Android prüfen, ob ihr Gerät betroffen ist. Falls ja, wird die Deaktivierung von Bluetooth empfohlen, bis ein Update verfügbar ist. 
(Armis: BlueBorne Angriff auf ein Android Mobiltelefon - Der Grusel wird ab 0:52 für jeden sichtbar)