Solutions
for responsive and modern workplaces
Just focus on your business. IDNT experts have your IT covered. We do not only provide the technology for modern and responsive workplaces, but also the associated support as required. Our agile solutions  promote creativity and productivity and thus success when working on-site and with distributed teams. 


IT costs always under control
Software licenses, updates, hardware, power, cooling, repairs, installation and maintenance and much more contribute to the cost balance. We bring full cost control by a simply manageable cost structure, which depends completely on your current need. Whether 3 or 30,000 users: You get an easy overview of all your IT costs and can always adjust services to your needs.
IT reliability and security
The possible threats are becoming increasingly diverse and complex. A failure of systems or even a loss of data can be costly or even endanger the existence of small companies. Our solutions automatically provide you with the latest software and are tailored to your protection needs. Experts provide security around the clock, 365 days a year.
Productive collaboration
Efficient communication promotes creativity, productivity and success. We offer modern, secure and easy-to-use solutions for communication within the company or with customers, partners and suppliers. Intelligent options for linking media such as chats, e-mail, web or discussion forums, including social media, make it possible to find information quickly.
Implementing compliance requirements
The requirements of regulations - be it by legal specifications or by specifications of customers and suppliers - are not becoming less and the effort to meet them is constantly increasing. Whether GoBD, DSGVO or ISO certification, we provide efficient tools that help you to ensure compliance simply and legally.
Information always at your fingertips
Wherever you are and with whatever device you are working with, we offer you secure access to your information. Intelligent search functions support you in finding information. Independent of the storage location. Documents, messages, contacts and appointments can be synchronized at any time, even without online access. Additional functions for mobile devices protect your data even in the event of loss.
No bottlenecks
Your IT grows with you. You set the pace and only pay for what you actually need. Give teams the ability to keep IT resources for projects on-demand or remove them in a few easy steps. Test new opportunities without upfront investment in expensive infrastructure. Easy to use, safe and almost endlessly adaptable to your requirements.
The right tools for your team 
With IDNT Cloud Solutions, Microsoft 365 and Microsoft Azure you get much more than just the proven Office environment. Benefit from a comprehensive offer with tailor-made support.
Proven Office-Software
Provide your team with familiar tools in a secure environment with one-touch installation. Available online in the web browser and for offline installation on PC or Mac as well as for almost all mobile devices including tablet and smartphone.
Licensing is child's play via the IDNT customer portal. You will automatically receive the latest version including all updates without costly installation.
Productive collaboration
and efficient organization
Enable your team to communicate efficiently and securely across distributed locations and with customers, partners and suppliers.
In addition to services for communication by e-mail, chat, voice or video call, conference, online presentation or for saving and exchanging files, you also have powerful tools at your disposal for simple and clear project planning up to duty scheduling. Intelligent search tools provide you with all relevant information, no matter where it is stored.
Securely deploy classic
desktop applications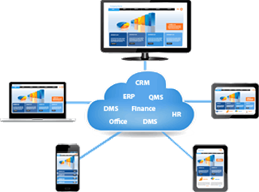 Classic desktop applications can be made available to users directly from the cloud without installation effort. The advantages are striking:
No installation effort on the user's end devices.
Easy maintenance and care of applications.
Increased security through central security rules.
Data cannot be lost if the terminal device is lost.
Access is possible from any location and end devices.
Simplification of data backup because data is stored centrally.
Increased failure protection through scalability in the cloud.
Users do not have to change because the operation of the application remains unchanged.
Protection against threats
and data loss
IDNT helps to avoid IT risks. Numerous mechanisms help your company to ensure the best possible protection of information:
Protection against unauthorized access.
Protection against unauthorized disclosure of information.
Protection against SPAM, malware and phishing attacks.
Protection in the event of equipment loss.
Protection against data loss due to failures.
Mobile devices in particular have an increased need for protection and are protected by mobile device management, central security guidelines and encryption. Products for Advanced Threat Protection (ATP) offer additional possibilities for effectively averting dangers.
Modular combinable services
We see ourselves as a partner for companies with and without in-house IT and build on a cooperative partnership. Our services can be modularly adapted to your needs at any time.
Software and Product Consulting
We provide advise in the selection of suitable software, licenses and cloud products for your project or for the entire company. On request, our experts regularly optimize the products you use based on your usage and help you to save costs. In addition, numerous cloud product and license orders can be carried out directly via our customer portal and adapted to use at any time. 
Planning, configuration and migration
IDNT supports you in migrating existing applications and data to Microsoft 365, Azure or the IDNT Cloud. Our experts can advise you on a smooth migration or, if you wish, also carry it out for you. For this purpose, we offer software products specially developed by IDNT and third party providers, which ensure the integrity of the data during the migration.
Integration and Automation
Our experts with many years of experience are at your disposal for data exchange with existing and new applications as well as for integration with an in-house IT landscape. Whether simple data transfer or complex interfaces, we not only offer you standard tools, but also develop individual interfaces or processes for automation according to your requirements. 
Professional support
Whether IT professional, power user or user, our support can be modularly adapted to your needs and is available to you in German and English with guaranteed response times. On request also around the clock, 365 days a year. Our fair and demand-oriented condition model also gives you security in planning. 
Full-service managed IT
We offer small and medium-sized companies managed IT solutions perfectly tailored to their requirements. Our experts analyze your IT needs and provide the necessary IT including services such as backup and ensuring compliance requirements. For industry-specific requirements, we help you to find suitable partners and support them in their integration. Nothing stands in the way of worry-free IT and you can fully concentrate on your business.
 Digitale Transformation
Hardly any industry is not shaped by technological progress and change. The optimization of existing processes with the help of new, technological possibilities often results in cost savings and competitive advantages. This also gives you time to use your know-how for new innovations. Our experts as well as our contacts to specialists from various fields are at your disposal at any time. 
The IDNT Service Portal
First-class tools and a complete overview of the services are available at any time in our portal IDNT GO. Here you can adapt your products quickly and easily to your requirements whenever required. Administrators will find powerful tools to manage services and users and to ensure compliance requirements.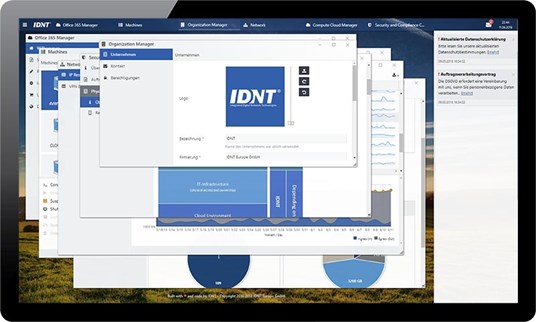 Success Story

Learn more about our cloud solutions in our case study about the successful cloud migration at Titan Commerce:
Success-Story Titan Commerce
We look forward to hearing from you: